Honeybees collect nectar from flowers and produce honey. Honey obtained from honey bees, which is highly nutritious and laden with numerous medicinal properties. It contains all naturally occurring antioxidants, pollen, enzymes, vitamins, and natural minerals. We guarantee that no value is taken out and cane sugar, corn sugar or anything ever added in our Raw Honey.
Our team is experienced and well trained in the process of extraction of Raw Honey. The latest method and techniques are used to perform the extraction process of Raw Honey from the comb, so Honey bees do not hurt and we also get the best Raw honey.
We also pride ourselves by keeping healthy Honey bees. Our honey is appreciated by our clients for its quality. The location of an apiary (production site) is also miles away from the industrial area where our honeybees can forage on multiple floral sources.
RawGranules honey is 100% pure and natural honey. It's a raw, unfiltered and unprocessed honey which is a natural immunity booster as per Ayurveda.
The smell, taste and color of the honey depends on the type of flowers the bees have visited. And it changes from season to season.
We guarantee these : No Artificial Flavor, No Added Sugar, No Preservatives and its purely natural.
Nutritional Facts :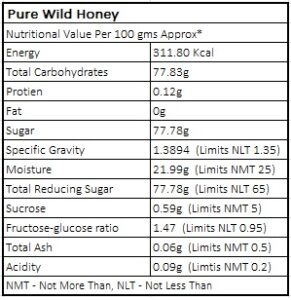 Honey is thick, sweet liquid made by honeybees. It has been used in medicine for over 5,000 years. It is low in vitamins and minerals but may be high in some plant compounds. Honey contains a number of antioxidants, including phenolic compounds like flavonoids. Honey seems to have a positive effect on cholesterol levels. It leads to modest reductions in total and "bad" LDL cholesterol while raising "good" HDL cholesterol. Eating honey may lead to modest reductions in blood pressure, an important risk factor for heart disease.
The ANTIOXIDANTS: In honey have been linked to beneficial effects on heart health, including increased blood flow to your heart and a reduced risk of blood clot formation.
WOUNDS & ULCERS: Honey can sterilize wounds and promote healing, and also reduce pain, odor, and wound size.
COUGH SUPPRESSANT: For children over one year of age, honey can act as a natural and safe cough suppressant. Some studies show that it is even more effective than cough medicine.
Made by the alchemy of bees collecting nectar, pollen, and resins from flowers, honey can help moisturize, fight aging, and fight bacteria. Honey helps reduces ulcers & other bacterial gastrointestinal disorders.
Benefits:
Natural Sweetener
Immunity Booster
Cold & Cough suppressant
Positive effect on cholesterol level
Loaded with antioxidant
Great for skincare
Helps in weight management
Acts as immunity booster
Pure Wild Honey
Digestion management
Smooth & Glowing Skin
Nutritional Facts: We have sent out honey sample for the testing and below is the values we got. It proves that our honey is not adultrated.