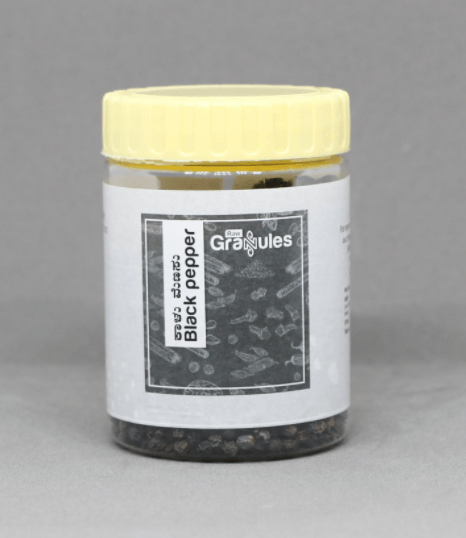 Black pepper (Piper nigrum) is a flowering vine, it is cultivated for its fruit i.e peppercorns, which are dried and used as a spice or for seasoning. Black pepper has lots of health benefits that make it the world's most traded spice and is also one of the common spices added to recipes around the world.
Black Pepper Benefits :
1) It is high in antioxidants.
2) It helps in losing weight
3) It detoxifies your body
4) It consists of potassium that helps in regulating heart rate and high blood pressure
5) It helps in producing red blood cells
6) It is rich in vitamin B and produces calcium
7) It helps prevent skin deformation & wrinkles
8) Good for Digestion and prevents constipation
Crushed black peppercorns can be used while preparing biryani or used in salad as black pepper seasoning.
It can also be boiled in water and used as an immunity booster during cold and cough.
In Ayurvedic tradition, Black pepper is used to increase internal heat. It has been used for respiratory diseases, as well as conditions related to the intestinal flora.
Because of the benefits of Black pepper to keep cough at bay, do make sure to check out the recipe that is very popular in every household for the prevention of cough and cold.
Recipe to make Black pepper kashayam/Kada for cough and cold.
Ingredients :
1 cup – Water
1/2 tsp – Black pepper corns
1 and1/2 tsp – Jaggery
Method:
Pour water in a small bowl.Boil it.
Meanwhile add pepper corns and mix well with a spoon.
Bring this water to a boil and turn off the flame.
Filter to remove extra pulp and pour into a cup or a glass.
Try to drink it when it is still hot as it is good for the throat.
Meanwhile, there are other spices as well which you may be interested in, do check out our new favorite nutmeg spice from the farm. Also, we have got natural turmeric powder.
Introducing fresh from the farm to home Rawgranules has made sure to keep safety and hygienic requirements for the black pepper to be delivered to you. We assure you that it is 100% natural, vegan and chemical-free.
Enjoy your cooking and have a great experience with the help of our freshly ground black pepper and its benefits and get your first package of dried black pepper delivered to your doorstep with ease.