Benefits:
01. Weight Loss: Red rice is the recent buzz in the world of diet as it is said to promote weight loss. The fat content in red rice is zero, hence its consumption can never add every extra pound to your body. It is loaded with both soluble and insoluble fiber as the outer layer of the rice is kept intact, where all the fiber comes from. Nowadays, it is even prescribed by the doctors as an alternative to medicine to get rid of mild symptoms of high-cholesterol.
02. Controls diabetes: Red rice helps in controlling diabetes as it helps in regulating the insulin level. The low glycemic index of red rice and rich content of manganese and antioxidants, helps in controlling the sugar level and is good for diabetic patients.
03. Regulate asthma: Red rice also has several pulmonary benefits. Due to the magnesium content, red rice consumption helps to regulate asthma. It also improves the oxygen circulation in the body.
04. Helps digestion: Red rice is also a great source of fiber and has several digestive functions. It flushes out the toxins in the body and eases the bowel movements.
05. Benefits For Skin: Red Rice is rich in iron and vitamin, which together help in the production of RBC (red blood corpuscles) in our body, which is considered as an essential element for good skin health. The antioxidants in the rice may help in fighting free radicals, which protect our skin from premature ageing.
What do we do actually?
All we do is to get the best quality paddy from the field & just peel of the skin. Filter the rice to remove the broken grains. That's all. It's purely UNPOLISHED rice; hence all the nutritious will be available.
Cooking Tips:
Rinse the rice thoroughly. Soak the grains in water for min of 2 hrs in lukewarm water prior to cooking.
Electric Rice Cooker (Recommended):
3 cups of water for 1 cup of rice
Boil for 45 mins
Open Pan:
5 cups of water for 1 cup of rice
In a large cooking pot, bring water to a rolling boil.
Add the drained rice and stir gently
Cook uncovered for 45 mins in High Flame. Drain and rinse with more boiling water.
Strain excess water and serve hot
Note: Do not use any type of Pressure Cooker
Nutritional Facts :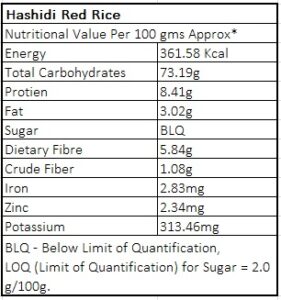 Research Says:
Processing Nutritious rice:
Aside from differences in nutritional values of different rice varieties, processing also affects the nutrient quality of rice White (milled) rice predominates in the market and Asian diets. Unfortunately, milling and polishing destroy 67% of Vitamin B3, 80% of Vitamin B1, 90% of Vitamin B6, 50% of manganese, 50% of phosphorus, 60% of iron, and all the dietary fibre and essential fatty acids (Babu etal., 2009) [3]. In contrast, Red unpolished rice has four times more dietary fibre which increases beneficial bacteria in the Compounds in Rice Bran for Prevention of Chronic Disease Rice bran also contains essential amino acids (tryptophan, histidine, methionine, cysteine, and arginine) and micronutrients (eg, magnesium, calcium, phosphorous, manganese, and 9 B-vitamins), all of which may work together for health promotion. Selected compounds from rice bran have been investigated for prevention and control of chronic disease via multiple mechanisms.
Red Rice for Minerals:
Red rice has been found to be rich in iron (Fe), zinc (Zn) and minerals. Zinc and iron are needed by the human body for enzymatic processes and haemoglobin production, respectively. If zinc is deficient, symptoms such as diarrhoea, weight loss and infection appear. If left untreated, zinc deficiency can be fatal. Similarly, iron deficiency can be detrimental to health, leading to anaemia with symptoms of brittle hair, brittle fingernails and fatigue. Rice is also a source of potassium (K), an important mineral needed by the body for normal metabolism, cell, tissue and organ function, muscle growth, and normal activity of the heart. Rice also contains manganese (Mn) and copper (Cu) in trace amounts. Manganese is needed for normal functioning of the brain and nerves while copper is needed for enzyme production for normal body function. An abundance of minerals in natural Red rice help to nourish the hormonal system, heal wounds and regulate blood pressure. Rice also offers iron to enrich the bloodstream and phosphorus and potassium to maintain internal water balance along with other nutrients. Rice thus helps restore internal harmony.
Excellent source of carbohydrates:
Rice is a great source of complex carbohydrates. Carbohydrates are broken down to glucose, most of which is used as energy for exercise and as essential fuel for the brain slow starch digestion (with low glycemic index), attributed to a high proportion of amylase and the size and structure of the starch granules. Rice eaters who are Type II diabetics would be better off eating slowly digestible rice varieties than white rice. Red rice, for instance, has a slow starch digestibility too and some starch is never turned into sugar at all and reaches the large intestine intact. One study in 2010 showed that the replacement of white rice by Red rice or other whole grains was associated with a lower risk of diabetes while another found that stabilized rice bran significantly reduced hyperglycemia and hyperlipidemia in both Type I and Type II diabetics. In any event, Type II diabetics should still avoid having too much carbohydrate in their diet. Carbohydrate digestion and utilization rates vary with each individual, depending on his/ her energy needs. Carbohydrate foods are important vehicles carrying proteins, micronutrients and other food components. It should be valued for its nutritional and medicinal properties and ought to be consumed with other food such as vegetables, fish, meat and fruits to ensure a diverse diet, nutrition and good health.
Low fat, Low salt, No cholesterol:
Red Rice is an excellent food to include in a balanced diet. It has no fat, no cholesterol and is sodium free. Rice lipids, which include fatty acids, are predominantly located in rice bran which is NOT removed in Red Rice. Depending on the variety, rice bran oil can have up to 80% unsaturated fatty acids (Fri and Backer, 2004). Oleic acid and linoleic acid constitute the unsaturated fatty acids in rice oil. These essential fatty acids, which cannot be synthesized by humans, are important in maintaining the function of cell membranes and the nervous system.
Protein:
Red Rice is an important source of protein. It has a high proportion of lysine and high protein digestibility. Rice protein, which comprises up to eight per cent of the grain, has a special benefit as it has eight of the essential
amino acids in a delicately balanced proportion. A complete internal rejuvenation takes place when rice protein is metabolized into health-building amino acids. These amino acids build resilient muscles which come back to their original form after stretching and bending, healthy skin and hair and clearer eyesight and nourish the heart and lungs, tendons and ligaments, brain, nervous system and glandular network.
Rice for Vitamins:
The B-complex vitamins, especially thiamin, riboflavin and niacin offered by natural Red rice promote youthful energy and nourishment to skin and blood vessels. Rice bran also contains beneficial anti-oxidants like tocopherols and tocotrienols (of the Vitamin E family) and oryzanols (Lloyd et al., 2000) [24]. Researchers have investigated the anti-cancer activities of tocopherols (Kline etal., 2004) [22] tocotrienols (Lloyd et al., 2000) [24] and the
ability of oryzanol to reduce cholesterol absorption (Lloyd etal., 2000) [24]. Researchers have also found that tocotrienol present in rice bran can prevent or reverse blood clots and lesions that may lead to strokes or thrombosis (Fri and Backer, 2004). In addition, the bran of red and purple rice is rich in anthocyanins and tannins which possess antioxidant and anti-inflammatory properties. Tannins have been investigated for their antibacterial effects and potential to prevent cancer and cardiovascular diseases.
Present research:
At present, rice is being seen under a different light – beyond its stereotype of staple food and primary source of carbohydrate or starch. Its mineral content, starch quality, glycemic index, and antioxidant activity has made rice unique among cereals. It has been found that, in comparison with other sources (wheat, potato, and maize), rice starch is nearly completely absorbed by the human body (Strocchi and Levitt, 1991). Positive qualities of high digestibility of starch, high biological value of amino acids, high content of essential fatty acids and selenium, and antihypertensive effect have been confirmed scientifically. Rice can therefore be described now as a functional food. Rice-based oral rehydration solutions (ORS) have been proved effective in decreasing stool output and improving intestinal absorption in acute diarrhea. Rice extracts were found to decrease intestinal losses by actively inhibiting chloride channels (Goldberg and Saltzman, 1996). Rice-based ORS are now preferred over glucose-based ORS, and have been included in WHO (World Health Organization) programs (Gore et al., 1992). Rice is the least allergic food and is recommended for people afflicted with the irritable bowel syndrome.